by Dan – March 20th, 2017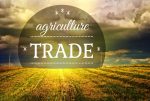 Leadership from 11 major agriculture groups met with the White House last week to discuss trade issues. The meeting followed a series of written communications to the Trump administration from the groups under the banner of the U.S. Food and Agriculture Dialogue for Trade, organized by the Corn Refiners Association. The meeting focused on the importance of continued growth of food and agriculture exports. In a joint statement following the meeting, the groups said: "It is clear from this meeting and other interactions that the Trump administration understands and intends to pursue expansion of U.S. food and agriculture exports." During the meeting, the agricultural organizations noted that 95 percent of their potential customers live beyond the U.S. border, and that the diverse food and agriculture sector supports more than 15 million U.S. jobs, creates more than $423 billion in annual U.S. economic activity, and is the single largest U.S. manufacturing sector, representing 12 percent of all U.S. manufacturing jobs.
From the National Association of Farm Broadcasting news service.