by Dan – March 15th, 2017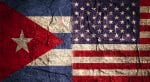 U.S. Senate Republican Jerry Moran (more-ran) (Kansas) is calling for the United States to restore trade with Cuba. Moran recently reintroduced legislation to lift the trade embargo against Cuba. The legislation would grant the private sector the freedom to export U.S. goods and services to Cuba, while protecting U.S. taxpayers from any risk resulting from trade. With Cuba 90 miles from the U.S. border, Moran says lifting the embargo and opening agricultural trade would increase exports, create new jobs and boost the U.S. economy. Moran says "when we don't sell agricultural commodities to Cuba, somebody else does." He says China, Canada and France are filling a void that could be filled by U.S. farmers. The bill, he says, would put the U.S. on a level playing field with market competitors exporting to Cuba.
From the National Association of Farm Broadcasting news service.