by Dan – March 14th, 2017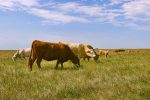 Oklahoma, Texas, Kansas and New Mexico have asked for a temporary suspension of grazing restrictions for farmers and ranchers. In a letter to acting Agriculture Secretary Mike Young, governors from the four states ask that the restrictions in the Conservation Reserve Program be lifted to provide more land for grazing. Senate Agriculture Committee chairman, Senator Pat Roberts of Kansas, toured the wildfire aftermath in his state last week. Roberts also asked the Donald Trump administration to quickly approve a federal disaster declaration. Following a conversation with Vice President Mike Pence last week, Roberts said he expected a disaster declaration within up to five days. Federal programs providing aid in disasters such as wildfires include the Emergency Conservation Program, the Livestock Indemnity Program, the Environmental Quality Incentives Program, Emergency Assistance for Livestock Program and crop insurance.
From the National Association of Farm Broadcasting news service.